Anti-Qatar World Cup Campaign
Yesterday, Brew Dog Beer announced its' anti-sponsorship campaign against the Qatar world cup, the north east brewer said "we love football, we just don't love corruption, abuse and death"
The question is whether running overtly political and campaigning communication can harm or damage your brand.
Its position is slightly muddy as the brand says that it does not want to endorse or support a tournament it claims was won through bribery. Its advertising states that Qatar has a poor human rights record, discriminatory laws and thousands have died creating the stadia in which the tournament will be held.
It's answer? Well, it appears that the fan zones it will be setting up so people can watch the tournament will donate profits to human rights charities. "So join us. Let's raise a glass to the players. To the fans. To free speech. And two fingers to anyone who thinks a World Cup in Qatar makes sense." Says Brew Dog. One wonders, why if the company has such a vociferously anti-world cup stance, it will be showing and promoting fan zones so more people can watch?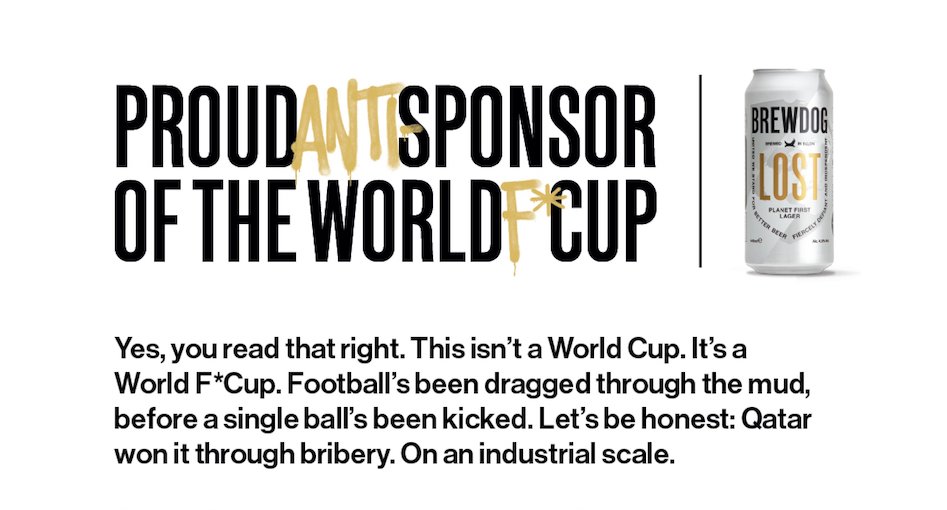 The question remains, is such political communication brand building or not?
It certainly invites a spotlight to be shone on your own brands track record, as an immediate consequence. Many commentators and consumers were quick to point out that Brew Dog happily operates in China and Singapore. Bryan Simpson, from the Unite's union is also quoted in City A.M saying., "The treatment of workers in Qatar is an international scandal, but BrewDog have a cheek saying anything about workers' rights when hundreds of their own workers—past and present—signed an open letter detailing a 'culture of fear,' with workers demanding an apology for 'harassing, assaulting, belittling, insulting, or gaslighting them.'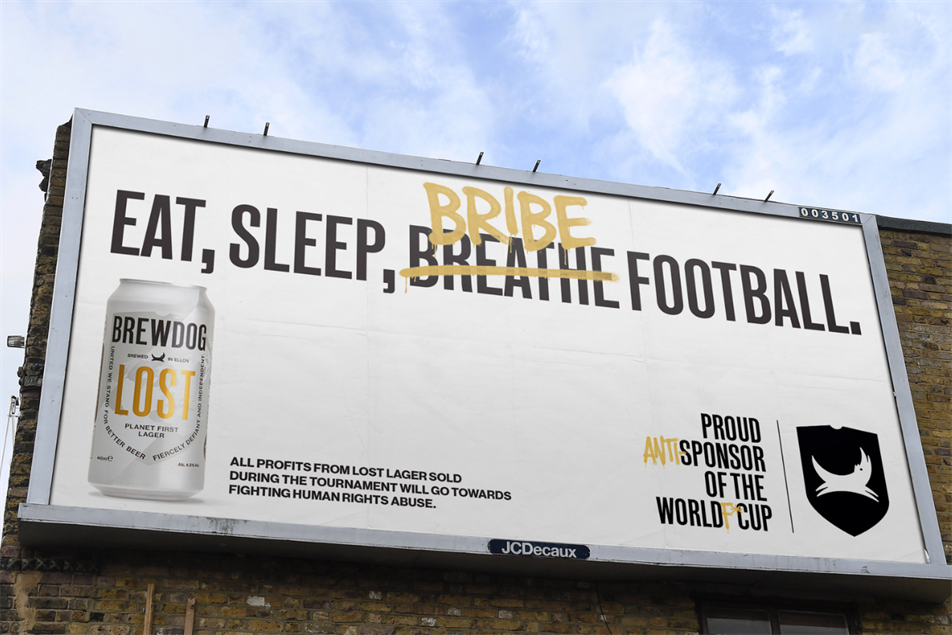 So can such campaigns work?
P&G suffered a huge backlash against their Gilette Toxic Masculinity communication. Among the objections were that the video implied most men were sexual harassers or violent thugs, that it was "virtue-signalling" by a company that doesn't care about the issue, and that the advertisement was emasculating.
Gilette Toxic Masculinity
Judge for yourself:
However there have been a series of advertising campaigns that have walked this line more effectively. Springing immediately to mind are the 2020 Nike 'Just Don't do it campaign, which was so well received that it was retweeted by rivals Adidas.
Nike – Just don't do it
You can see it here
Or perhaps another great example is the recent Bodyform 'Womb Stories' campaign that broke new ground in talking about the female reproductive system in the mainstream. It was Bodyform that first insisted on showing blood in their commercials rather than some surreal blue or green proxy.
Bodyform Womb Stories
See it here:
My view is that brands can be used for good, and should be. I have no love for the decision to hold the world cup in Qatar, but I question whether promoting fan zones to sell more of my beer is quite the way to engage in change.
What do you think?